WHY SHOULD YOU INVEST YOUR STATE IN A SECOND HOME ON THE MAYAN RIVIERA?
---
Few things are as appealing and relaxing as seaside living. Who wouldn't love living in a home within walking distance of a stunning beach and a majestic ocean view? A second home in the Caribbean may sound like everyone's dream, but purchasing one is an important decision requiring much thought.
At Residences by The Fives, we want you to make a well-informed decision; that's why we offer a list of pros and cons of seaside living:
ADVANTAGES OF LIVING BY THE BEACH
---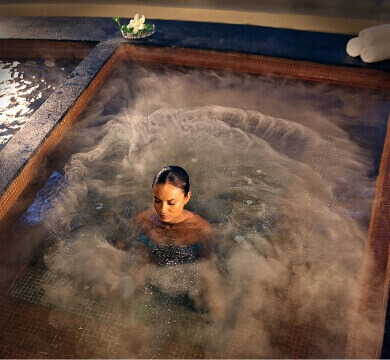 A HEALTHY LIFESTYLE
Studies show that residents in coastal regions enjoy better overall mental and physical health. Retirees often invest in seaside homes after years of dreaming of trading in their stressful lifestyle for a life near the beach. Young families also seek a relaxing coastal lifestyle and a great investment opportunity for the future.
The perks of living on the beach to health are not a secret: the lifestyle is healthier because walking on beaches, swimming, and enjoying other outdoor activities provides exercise, plenty of fresh air, and therapeutic doses of sunshine. The salty sea air also has negative ions that help the lungs absorb oxygen and promote positive moods.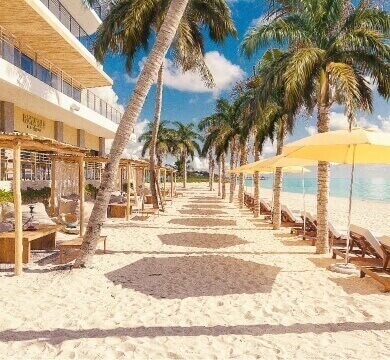 AN EXTRAORDINARY CULINARY JOURNEY
The gastronomic options are endless; from Mexican and international haute cuisine to seafood restaurants and taquerias full of Mexico's characteristic ingredients and colors, The Mayan Riviera is a place where the flavors will never cease to surprise you.
Seafood lovers in most parts of the world are content with fish, oysters, clams, lobsters, and crabs that have arrived by plane or truck. Caribbean dwellers, however, enjoy meals that include fresh, healthy, local seafood.
Many oceanfront restaurants near the beach offer excellent ambiance and dishes that promote good health. For example, the omega-3 fatty acids in seafood encourage brain cell growth.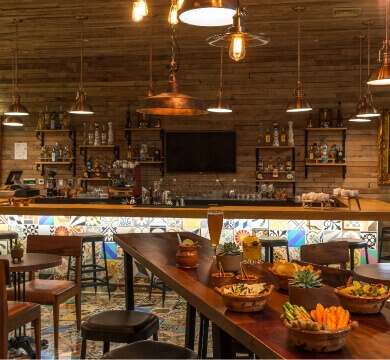 UNIQUE BARS AND PUBS
The Mayan Riviera has incredible signature bars where tequila and mezcal flavors predominate; you can also enjoy a variety of Mexican beers. The destination enjoys heavy tourist traffic, so it has many pubs and nightspots that attract visitors looking to relax in the evenings. Year-round residents also have different alternatives of quaint, cozy pubs and funky, flashy bars.
The Mayan Riviera offers a great mixology thanks to the multiple alternatives of fruits and fresh ingredients that bartenders can mix with liqueurs and distillates from all over the world to make the most delicious and exuberant drinks.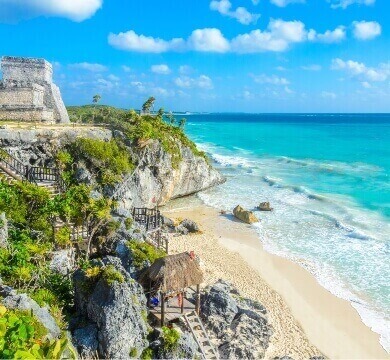 LOCAL NATURAL PARKS, FESTIVALS, AND EVENTS
The Riviera Maya hosts some of the most incredible natural parks in the world. These parks are located among the beautiful mangroves and cenotes of the region, and they offer entertainment alternatives for every taste and age.
Sports, musical, and gourmet festivals and events of the highest level are also part of this unique destination. Many entertainments last throughout the year, so permanent residents can always have plenty to choose from.
The Mexican Caribbean is one of the most culturally rich regions of the world. This peninsula is home to the enigmatic Mayan culture, and the greatness of their archeological sites, gastronomy, and handcrafts are perceptible everywhere you look.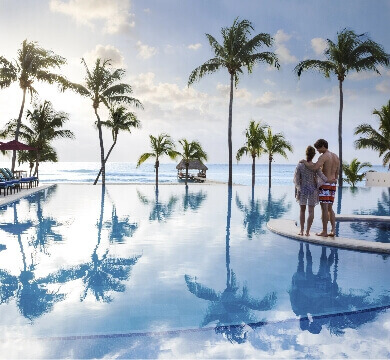 INCREDIBLE SUNRISES AND SUNSETS
Watching the sunrise is a breathtaking experience, but nothing is as extraordinary as watching the sun rise over the ocean. Living in a coastal home allows you to enjoy spectacular sunrises every day. Living by the sea also facilitates a sunrise walk on the beach, which is one of life's great pleasures.
Coastal sunsets rival sunrises in beauty. Residents can watch from porches and terraces as the sky turns from gold to orange, pink, or even purple before hiding away. It's an experience hard to match in urban areas, where buildings block the view.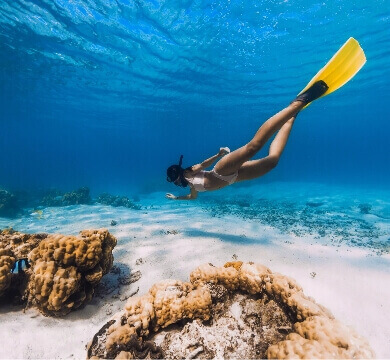 WATER SPORTS AND ADVENTURES
Many people who enjoy water sports buy or rent homes near the beach. Coastal communities often include businesses that cater to customers who want to rent jet skis, parasail, or enjoy scuba diving. Residents and visitors can rent sailboats or motorboats and spend their days on the water, fishing, sunbathing, or exploring the area.
But beach residents don't always need to spend money to enjoy healthy water activities as they have the ideal swimming environment right outside their front door. Swimming has incredible health benefits as swimmers can exercise for much longer in the water than on land, which provides critical heart health benefits.
DOWNSIDES OF LIVING AT THE BEACH
---
While the advantages of the beachside lifestyle are plentiful, there are some downsides. For instance:
Maintenance cost
Erosion
Mold
Pest control
The key to enjoying a seaside home is to weigh the pros and cons before buying a property. Still, the significant difference we offer at Residences by the Fives is that we guarantee that as an owner, you won't have to deal with any of the inconveniences of seaside living thanks to our Worry-Free ownership model.
WORRY-FREE OWNERSHIP
Residences by The Fives coined the Worry-Free concept; with this administration model, every owner can enjoy their home without having to make any maintenance expenses, replace furniture or appliances, pay bills or deal with management issues. There are special teams to care for every detail of your fully equipped residence.
Your residence at The Fives is managed as a 5-Star, 4 Diamond hotel, following the highest quality and customer service 24/7. You will not only be an owner but a premium guest at a luxurious resort where we will take care of every detail of your stay.
Our goal is to ensure that your experience becomes a memorable celebration every time you visit your property and that your investment turns into the best decision you have ever made.